73 Acres of Awesome, Located on Lake Bradford.
The Rez: FSU's Lakefront Park is a 73-acre facility, with 10 active acres, located on beautiful Lake Bradford. The Lakefront Park is located 1/4 mile from the airport and four miles from the Florida State University main campus. In our unique natural setting you can enjoy canoeing, kayaking, paddleboarding, picnicking, swimming, sand volleyball, disc golf, and many other activities.
Alcohol and pets are not allowed at the Park. Questions? Call us at 850-644-6892.
Notice: Due to low lake water levels, watercraft rental (kayaks, canoes, paddleboards) are not available until further notice. The swimming area remains open to patrons along with all land-based activities.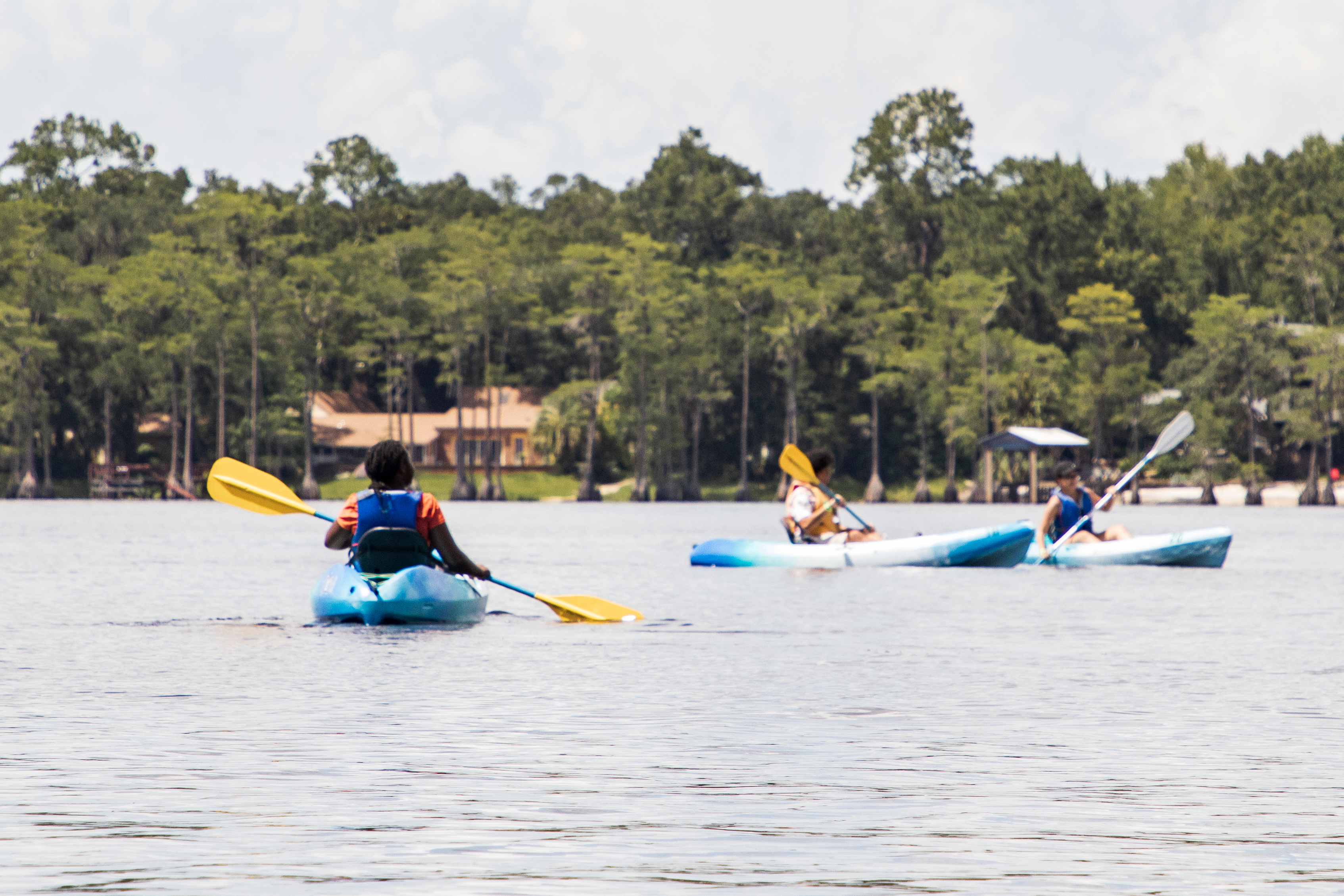 Enjoy the Lake!
Take a dip in our guarded, designated swimming area. Children under age 15 must pass a swim test to swim in the deep water. Or, simply enjoy our sandy beach and catch some rays!
Enjoy an hour of canoeing and kayaking on Lake Bradford or one of the three adjoining lakes. Or, try a stand-up paddleboard. Kayak, canoe and paddleboard rentals are available (FREE for FSU students). Go big with a sailboat, rentals also available from the Rez. Guests wishing to rent one of our sailboats must participate in one of our scheduled sailing clinics to ensure safe handling of equipment and to test skill proficiency prior to rentals. Sailing clinics are offered throughout our season.
Game On!
How about some sand volleyball, a game of horseshoes, cornhole or Spikeball, or a round of disc golf? It's all free with park admission.
Two sand volleyball courts are available for patrons during normal lakefront hours. And, nine holes of disc golf wind their way throughout the property. Sports equipment is available for checkout at the Rental Office.
Scale the Wall
Climb our 40-foot climbing wall, part of the FSU Challenge Course. You must have closed toe shoes to climb the wall.
The Climbing Wall is Open:

Friday through Sunday from 1pm to 5pm during the Spring and Fall semesters
*Closed on home football game days
Saturday and Sunday only from 1pm to 5pm in June and July
The Climbing Wall is closed during the month of May. However, the wall is available for groups upon request via this link.
A small fee applies for non-FSU students and the general public.
Stay in the Shade
Get into the shade and take part in a game of table tennis in our rec hall, located adjacent to the waterfront. Table tennis balls and paddles can be checked out at the Rental Office.
Enjoy even more shade under our pavilions, available for reservation and rental by various groups. Enjoy food hot off the grill, a charcoal grill and picnic tables are available with each pavilion. Please bring your own charcoal and grill brush. Visit our Facility Rentals page for details.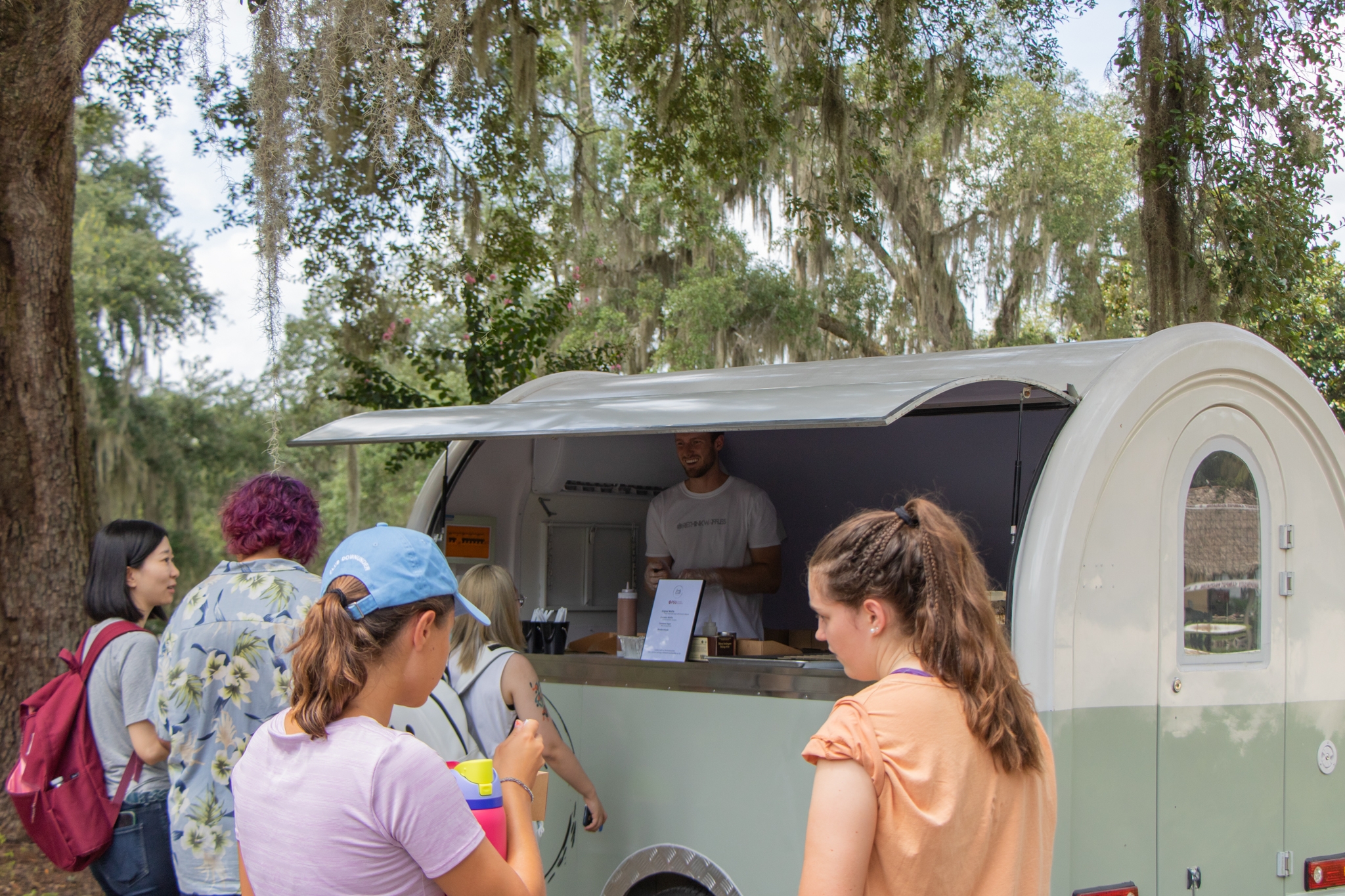 Food Truck Fridays!
Come out to the Lakefront Park on select Fridays during the fall semester. We will have free food while supplies last from 1 p.m. until 4 p.m. Don't forget your FSUCard!
FALL 2023 SCHEDULE
Friday, September 7 (Rescheduled from 9/1) – Chile & Chili's Taqueria
Friday, September 15 – Tropical Eats
Friday, September 29 – Pineappetite
Friday, October 6 – Lovett Grill & Barbecue
Friday, October 20 – Juice Bar Miami
Friday, November 3 – Tally Kombucha
Friday, November 17 – TBD